Tips for shipping goods by air freight
12/05/2023
U&I Logistics - Air Freight is one of the fastest and most convenient modes of transportation available today. For products that need to be delivered in a short time or high value goods, air freight is the best option to ensure time and safety. However, shippers need to pay attention to some things in air freight in the article below, let's find out with U&I Logistics.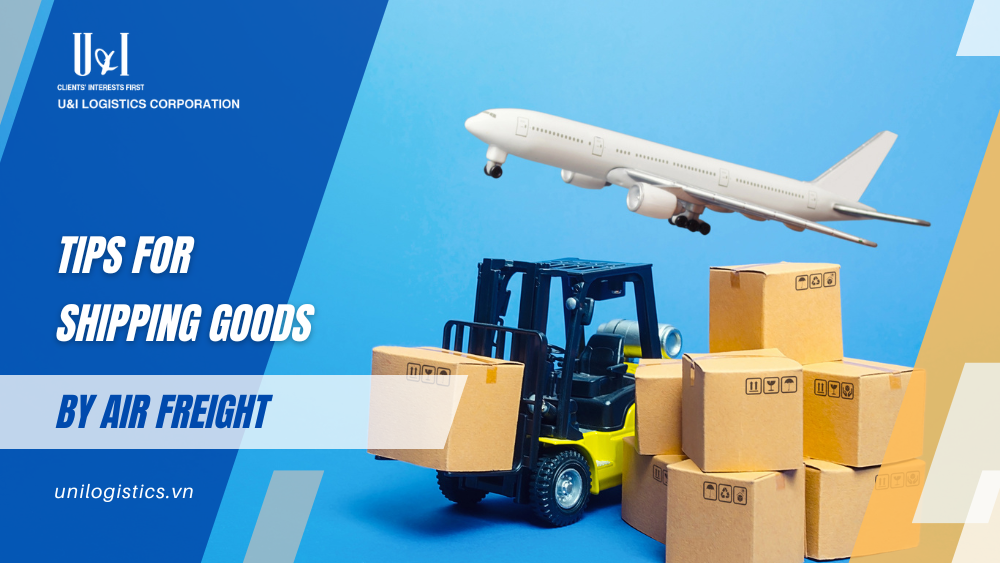 1. Regulations on classification of goods
Unlike the form of transportation of goods by road, rail,... All kinds of goods transported by air have standards for classifying goods, so you must understand the classification of goods such as How to be reasonable during transportation.
1.1 General cargo
These are air transportable goods that have no issues with size, content, packaging, etc. However, not all shipments are easily accepted for air transportation. Before loading cargo into the hold, airport staff usually carefully inspect the dimensions and volume of the cargo to ensure they are suitable for the cargo hold. This type of cargo often includes electronics, jewelry, clothing, textiles, pharmaceuticals, hardware, machinery, as well as other consumer and retail goods.
1.2 Special cargo - Special cargo
Goods must be transported under special conditions, such as temperature control and protective packaging. Examples: fresh produce, hazardous materials, live animals, human remains and organs, tissue samples, artwork. Speciality goods can be subdivided into:
Oversized cargo: These are large or heavy cargoes that do not fit in the cargo area of ​​standard fuselage or cargo planes, or exceed the dimensions of conventional containers and pallets that airlines use. aviation use.
Project cargo: This category typically includes large, high-value, or complex equipment involved in large projects such as factories or oil refineries. The logistics of project goods enables the completion of such projects on time and within budget. Industries that depend on project goods include oil and gas, mining, engineering, wind power and construction.
2. Tips for shipping goods by air freight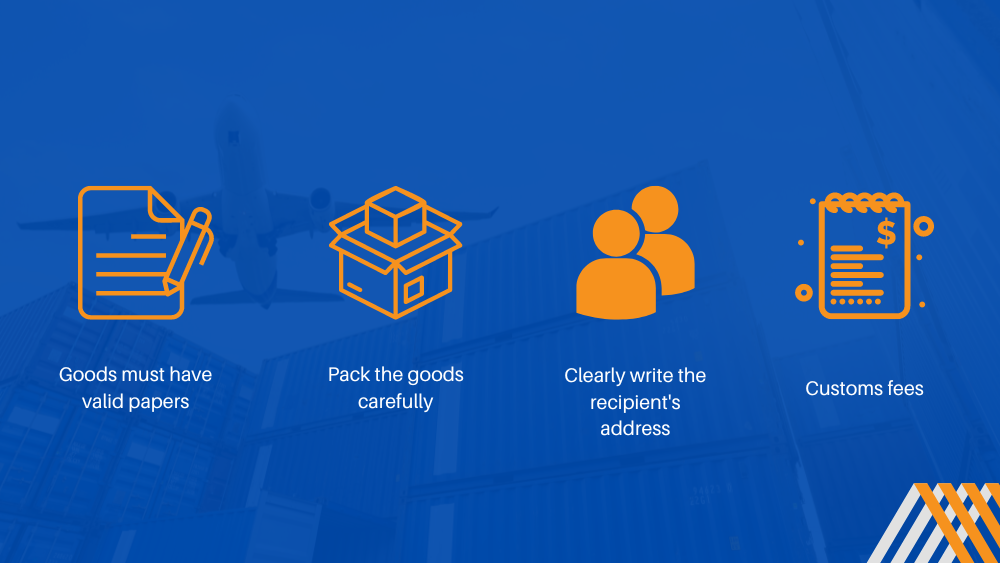 2.1 Goods must have valid papers
To transport goods by air, you need to comply with the regulations of the airline, including proof of origin and origin and have all valid stamps according to the prescribed procedures. When the documents are valid, your goods will be considered as officially imported into other countries, helping the transportation process go smoothly, ensuring the formality and full invoice documents.
2.2 Pack the goods carefully
Cargo cannot be loaded in its original condition on board. Before being loaded onto the plane, the goods will be packed into a large pallet or container called "ULD -ULD – Unit Load Devices" or put on wooden pallets and tie up.
2.3 Clearly write the recipient's address
For goods shipped via air, it is necessary to specify with fast shipping goods, high-value goods and when filling in the recipient's information, you need to check the information clearly to avoid the situation. Goods sent back due to unidentified product recipient.
2.4 Customs fees
With airlines, the transportation of goods that need to be checked by you will act on behalf of you to carry out the customs procedures. However, if any other situation occurs related to the wrong information of goods according to the information declaration process, the customer needs to be responsible for the costs and related losses. Airlines need to pay the terms related to the pre-consignment contract declared by valued clients
You may be interested in: 3 Customs Clearance Risks That Enterprises Operating Import And Export Can Face
3. Air freight forwarding with U&I Logistics - The companion of import and export goods, lifting businesses to the next level
With many years of experience in declaring all types of declarations, U&I Logistics provides the best solutions for businesses in carrying out customs procedures. The professionalism of U&I Logistics is reflected in high accuracy and quick processing time. We assure you peace of mind with our expert level Clearance Officers that have sound local customs regulation knowhow for clearances services at major shipping gateways. Our international freight forwarding service includes:
Air Freight Service

Consolidation Service

Courier Express Service

Project Cargo

Multimodal Transportation Service

Port to port Service

Ex-working Service

Cross-border Forwarding
With the trust from valued clients, U&I Logistics commits to make more efforts to bring the best solution for all partners in import and export activities.
U&I Logistics