The largest bonded warehouse system in the furniture industry in Southeast Asia
24/03/2023
U&I Logistics - The system bonded warehouse furniture industry is an indispensable part of enterprises' supply chains in manufacturing and exporting wooden furniture. To ensure that their wooden furniture items are safely preserved and transported, business owners need to choose a business that owns a bonded warehouse system with many years of experience and reliability.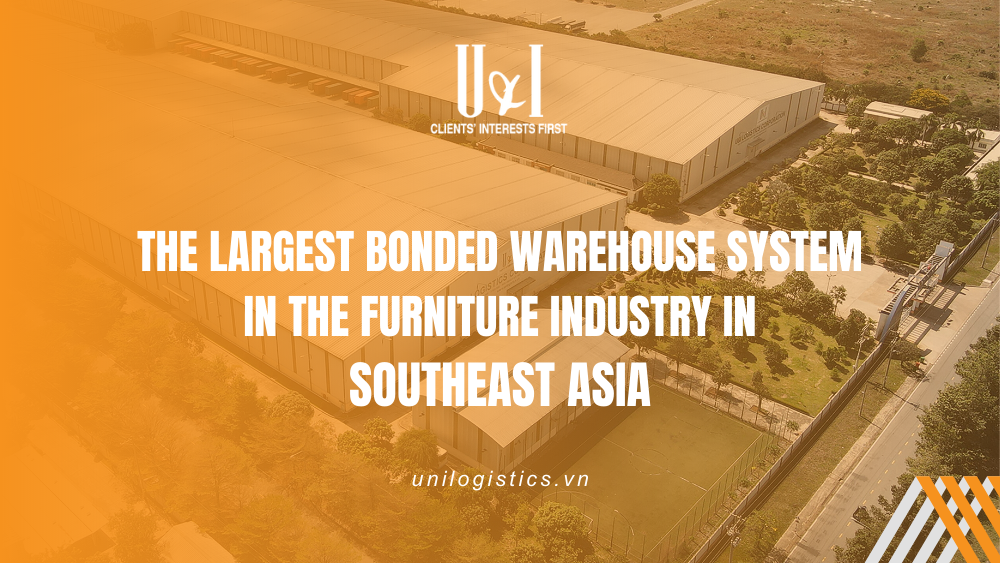 This article will introduce U&I Logistics' largest bonded warehouse system for furniture in Southeast Asia, along with basic standards and benefits when using a bonded warehouse system.
1. General introduction of the bonded warehouse system in the wood furniture industry
1.1 Understanding bonded warehouse and its role in goods storage
One of the important warehouses in logistics is the bonded warehouse. The bonded warehouse will perform the function of temporary storage of goods, temporary preservation of shipments exported to foreign countries or shipments imported into the country from abroad.
Goods are stored here, the goods owner has the right to directly authorize the agent to carry out customs procedures and pack and reinforce goods. In addition, at the customs warehouse, the owner of the goods can also transfer the ownership of the goods to another party, and transfer the goods between the bonded warehouses together or with the border gate.
On the other hand, according to Clause 10, Article 4, Customs Law 2014, the bonded warehouse is defined as "a warehouse or storage area for goods that have gone through customs procedures and are sent for export; or goods brought in from abroad to wait for export abroad or import into Vietnam".
Read more: Things to know to choose a reputable bonded warehouse rental unit?
1.2 The advantages of using a bonded warehouse to store wooden furniture.
Here are some advantages of using a bonded warehouse to manage and store wooden furniture:
Do not have to pay import tax: The importer or the owner of the goods is not required to pay any import taxes on his goods purchased from abroad when the goods are kept in a bonded warehouse. This helps businesses save money to invest in other businesses and helps businesses actively control their finances.
Long-term storage time: In some countries, the bonded storage period is unlimited. In Vietnam, goods are kept in warehouses for up to 5 years. This means that business owners in the field of manufacturing and exporting wooden furniture have the ability to import goods into bonded warehouses, store them and wait until market demand increases.

Since taxes are only paid when goods leave the bonded warehouse for consumption, the importer will actively manage his or her cash flow. The increase in market demand means an increase in revenue as well. office information

Place of residence for goods subject to import restrictions: If the goods are in the process of applying for a license of all kinds to import into a country or move to another place, putting the goods in a foreign warehouse is the right choice.
2. The largest bonded warehouse system in the furniture industry in Southeast Asia
With a total area of ​​more than 242,320 m² (equivalent to 2,609,000 ft²), the security infrastructure is of high standard, qualified to store all dry goods under a strict and scientific management process. learn. The bonded warehouse of U&I Logistics will play an important role in comprehensive logistics and supply chain management for Magnussen, La-Z-Boy, Element, Liberty Furniture, and a number of other large wood and furniture FDI enterprises.
Moreover, the warehouse locations are also carefully calculated and actively work with relevant agencies to ensure convenience in transactions, ensuring high connectivity. Thereby optimising the goods rotation processes, and significantly reducing logistics costs for customers.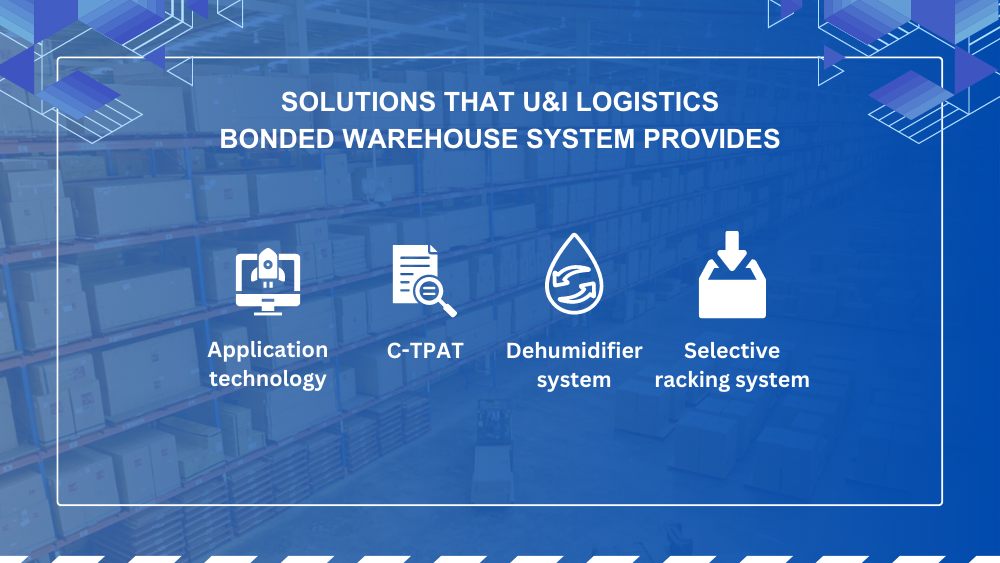 Solutions that U&I Logistics bonded warehouse system provides:
Control goods accurately and closely with intelligent online management software.

Concentrating and distributing goods is very convenient and flexible.

Coordinate goods from many different suppliers, including goods imported from abroad to export to third countries.

Maximize your cargo area and storage space with the versatile, versatile multi-tier selective racking system.

Thoroughly handle termites and molds arising from goods with modern humidity control systems and insect control systems.

Make it easy for customers to get C-TPAT (Customs-Trade Partnership Against Terrorism) certification from CBP (Customs Border Protection) USA.
You may be interested in: Visiting the modern warehouse system of U&I Logistics using virtual reality technology
With the largest bonded warehouse system in the furniture industry in Southeast Asia of U&I Logistics, customers will be assured of quality, safety and efficiency in the process of storing and transporting goods.
U&I Logistics