Rail freight transport - "Promised Land" in the logistics industry
12/05/2023
U&I Logistics - Among various transportation methods, besides road transport, rail transport also plays an important and indispensable role. This method is reliable and safe, especially suitable for large cargo volumes. Thanks to advances in science and technology, rail transport has undergone many positive changes, helping to reduce transportation time while ensuring the safety of goods. Let's explore the rail transport method and things you may not know about it with U&I Logistics in this article.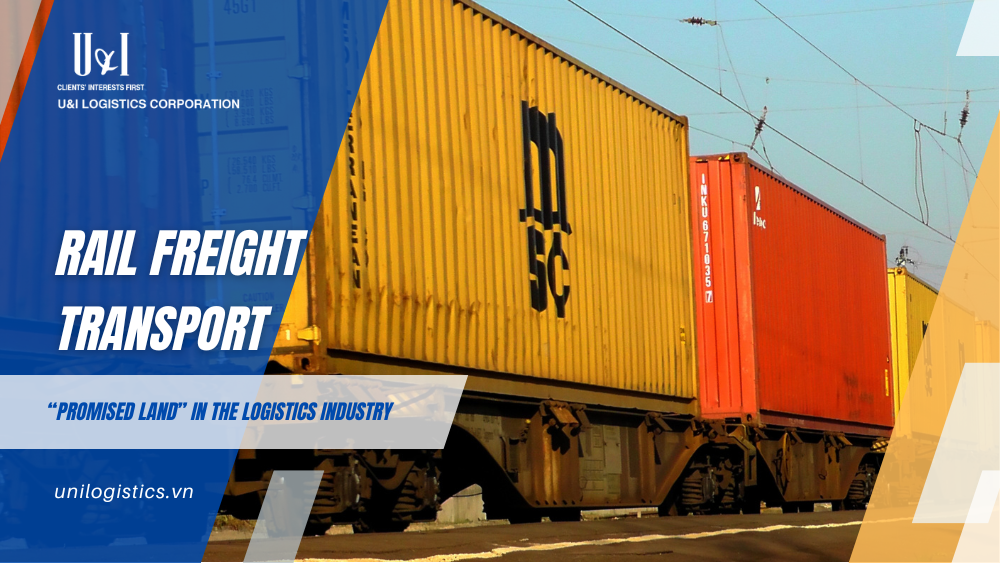 1. What is rail transport?
Rail transportation is a method of transporting goods or transporting passengers by rail. This is one of the oldest modes of transport and is still widely used around the world.
Rail transport is favored not only for carrying passengers but also for large, reliable and low-risk cargo traffic. Advances in science and technology have made significant improvements in this area, ensuring shorter transit times and enhanced safety of goods. Rail transport also helps to reduce traffic congestion, save transportation costs and protect the environment.
Read more: 5 Common International Shipping Methods for Freight
For import-export companies, trading companies, understanding about railway mode of transport will help you have the most optimal choice in transporting the company's goods. At the same time, it also helps to increase understanding of different modes of transportation so that they can be applied appropriately for each type of goods and transportation location.
2. Current status of Vietnam's railway transport
The national railway network has a total length of 3,143 km and has 277 stations, of which 2,703 km of main lines, 612 km of stations and branch roads, including 07 main lines. The railway network connects to each other at the Hanoi hub, currently going through 34 provinces and cities, including 4/6 economic regions of the country. Railway density is about 9.5 km/1000 km2 (the average level of ASEAN and the world).
Currently, there are 02 routes connecting with China at Dong Dang (Hanoi - Dong Dang intermodal route) and at Lao Cai (Hanoi - Lao Cai route). The exploitation capacity on most major railway lines is only about 17-25 pairs of trains/day and night, the average operating speed of passenger trains and freight trains is 50-70 km/h (100 km/h maximum for passenger trains); passenger ships; 60 km/h for cargo ships).
Most of the railway lines were built a long time ago, so they have low technical standards, with many limitations in terms of load and profile, so the train speed is low, reducing competition compared to other modes of transport. other.
By June 2022, 4 important and urgent railway projects had started. The current railway network has created connections between 4/6 regions, 34 provinces/cities, 3 lines on two main corridors Hanoi - Ho Chi Minh City. Ho Chi Minh City and Lao Cai - Hanoi - Hai Phong account for 78% of the network, handling 98% of passengers and 88% of freight transported by rail.
Source: Status of infrastructure system and modes of transport with Vietnam Logistics
Vietnam Railways also strengthens the connection between 2 seaports (Cai Lan, Hai Phong), 2 inland waterway ports (Viet Tri, Ninh Binh) and 1 dry port (Lao Cai). However, it is still needed continue to invest in connectivity, improve operational efficiency and reduce logistics costs.
Read more: Orientation for development of railway transport in Vietnam to 2030, vision to 2045
Đọc thêm: Định hướng phát triển giao thông vận tải đường sắt Việt Nam đến năm 2030, tầm nhìn đến năm 2045
3. Transporting Goods by Rail: What You Need to Know
Rail transport is becoming one of the transportation industries chosen by many businesses and agencies because of the practical benefits it brings. With rail transport, it not only saves cost, time and effort, but also has the ability to transport large quantities of goods and heavy loads. The shipping process always takes place quickly, smoothly and safely. In addition, rail transport is also a means of transport that has little impact on the living environment and reduces air pollution. Therefore, it is evaluated as an optimal and sustainable transport solution for import and export companies.
Here are five things you may not have known about rail freight: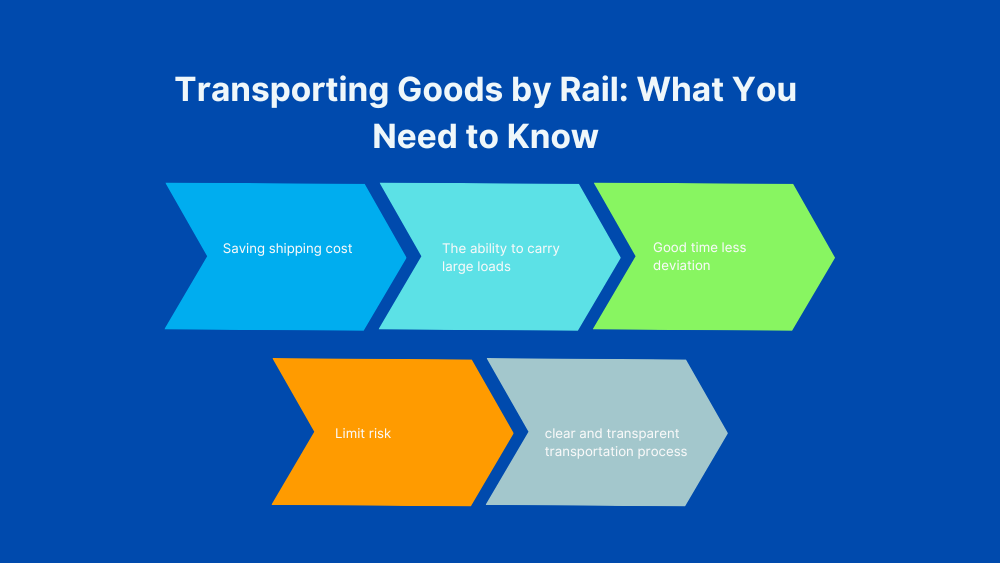 Firstly, Saving shipping cost: Compared with other forms of transportation, freight by rail is considered by many to have a relatively affordable freight rate. Because the railway route is less affected, the price of fuel is less volatile, so the cost is usually moderate and suitable with the customer's budget. In addition, rail transport can carry goods of various weights. The more you ship, the cheaper the freight will be.
Secondly, the ability to carry large loads, heavy goods, bulky goods - This is a form of transportation that many businesses choose to transport for super-gravity machines. This method is suitable in the case of transporting container in a multimodal manner. In other words, your goods are always delivered to the door of the train station.
Thirdly, good time less deviation: Transport by rail usually has a specific and fixed nature, not affected by traffic jams or yielding to other vehicles because it only travels on the railway line. This form of transport is also not affected by the weather in sunny or rainy days, etc. On the other hand, the fixed railway line is less damaged and less affected by road repair problems.
Fourly, limit risk: Another benefit in rail transport that cannot be ignored is that the goods of the shipper will ensure both quality and quantity, safer than other methods.
Finally, clear and transparent transportation process: Shippers will be provided with timely information about the shipment such as the current location of the shipment, the estimated time of arrival at the unloading station, etc. to easily arrange production and business plans.
4. Is rail transport right for your cargo?
Taking into account the many advantages rail transport offers over your other types of freight forwarding, it is certainly worth considering it as an alternative to road transport today.
At U&I Logistics, we offer rail transportation to keep your project on track. Contact us now
U&I Logistics