Learn about commercial and non-commercial goods? Customs procedures for non-commercial goods
12/05/2023
U&I Logistics - You want to learn about commercial goods and non-commercial the same customs procedures for non-commercial goods? Read our article to better understand the definition and difference between these two goods, as well as the customs processes and procedures you need to keep in mind when importing non-commercial goods.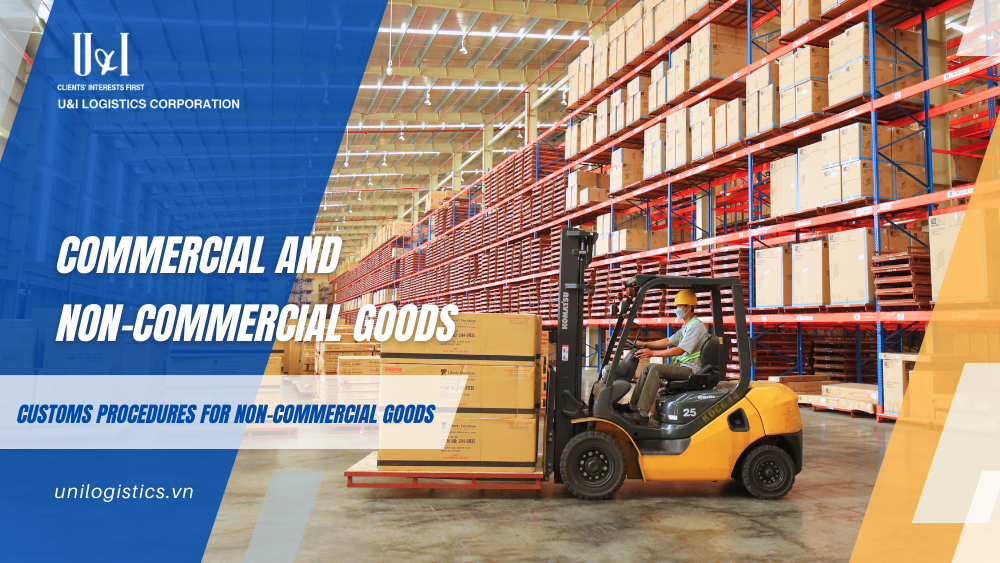 1. What are commercial and non-commercial goods?
1.1 The concept of commercial goods
Commercial goods is a type of goods with a contract of sale and without a limit on the quantity of imports and exports. Enterprises importing commercial goods are responsible before the law for the nature of the goods and the confirmed transaction will be invoiced and paid the corresponding taxes. This type of goods is considered as official import and export goods and not "small" goods - purchase and sale without invoices.
1.2 The concept of non-commercial goods
Non-commercial goods is a concept that many people can understand in different ways. However, I will summarize for the reader the most easily understood about non-tradable goods. These are products that are exported or imported without commercial purposes. They are often used for gift-giving, advertising, aid or product introduction. When importing "non-commercial goods", there is no need for a contract but instead a letter of agreement. However, other customs fees must still be paid. This is a commodity that is considered legal for importation and is not controlled by the government.
2. What are the distinctions between commercial and non-commercial goods?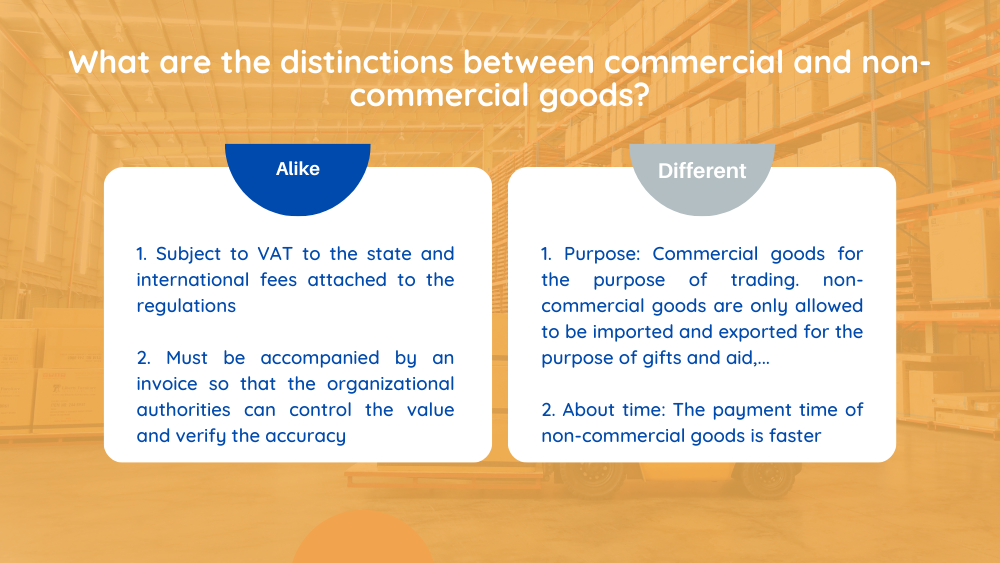 2.1 Alike
These two types of goods have two outstanding points in common, namely:
First, both non-commercial goods and commercial goods are subject to VAT to the state and international fees attached to the regulations.

Second, both of these goods must be accompanied by an invoice so that the organizational authorities can control the value and verify the accuracy. Avoid cases of illegal transport pretending to be commercial or non-commercial goods
2.2 Different
Besides the similarities of these two goods, there are also some basic differences, namely:
Purpose: Commercial goods for the purpose of trading, trading and production, while non-commercial goods are only allowed to be imported and exported for the purpose of gifts and aid, not allowed. exchange, buy and sell for commercial purposes.

About time: The payment time of non-commercial goods is faster, so the delivery time of this type of goods is also shorter than that of commercial goods.
3. Customs procedures for non-commercial goods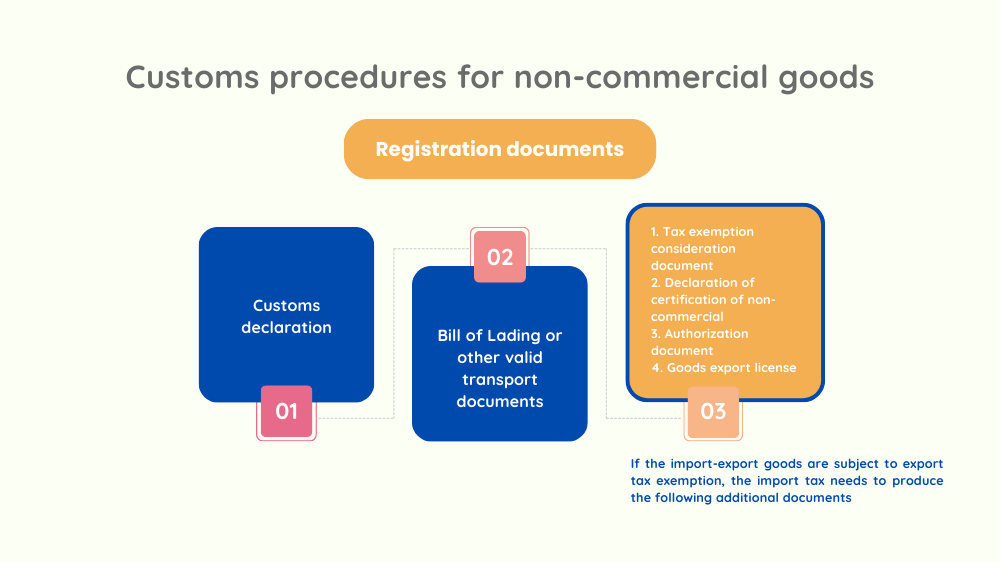 3.1 Registration documents
Customs declaration: Make customs declaration on paper declaration as prescribed in Clause 4, Article 11 of Decree No. 39/2018/TT-BTC

. Submit 02 originals of import declarations according to Form HQ/2015/NK Appendix IV issued with Circular 38/2015/TT-BTC.

Bill of Lading or other valid transport documents confirming the transaction of goods without conflict.

If the import-export goods are subject to export tax exemption, the import tax needs to produce the following additional documents:

Tax exemption consideration document of the Ministry of Finance for goods being gifts or gifts with a value exceeding the prescribed tax exemption limit.

Declaration of certification of non-commercial aid issued by the financial authority in accordance with regulations of the Ministry of Finance for non-commercial aid goods that are not subject to import tax, excise tax and VAT: Pay 01 original.

Authorization document (In case of authorizing others to enter): 1 Original

Goods export license (For the case of conditional export): 01 original. Other documents, depending on each specific case as prescribed by law.
3.2 Procedures for importing non-commercial goods
Receipt -> check details of documents -> registration of customs declaration -> Actual inspection of goods to confirm inspection results -> Calculation and collection of customs taxes and fees -> Receipt of dossiers.
Locations for carrying out customs declaration procedures are border-gate customs branches where goods are imported and exported.
All non-commercial goods must undergo physical inspection of goods in terms of form, quantity and quality according to the decision of the Leader of the General Department of Customs specified at Point III.2, Section I, Part B of Circular No. 112/ 2005/TT-BTC.

The value of non-commercial import and export goods must not exceed the permissible limit of Customs law.
Source: Duong Gia Law
In spite of commercial goods and Non-commercial there are many things in common, but in fact it is not too difficult to distinguish these two types of goods. However, customs clearance procedures for these two goods are not simple, requiring preparation and experience. To do this effectively, you should contact reputable import-export units for support.
4. U&I Logistics - Flexible and precise import and export service
During many years of persistent operation with the motto "For the interests of the customer first", U&I Logistics has turned flexibility into a key factor for the success of the business, when all services are of high quality. Highly customizable, meet all customer needs.
Sea and air transportation - Flexibility thanks to the international trade network

Logistics and distribution of goods - Flexibility thanks to multi-service integration

Customs clearance agent - Flexibility thanks to a professional team

Inland transportation - Flexibility thanks to the application of modern technology
With the trust valued clients, U&I Logistics is committed to making more efforts to bring success to all partners in import and export activities.
U&I Logistics