Inland waterway transport: Is the truth "running aground"?
29/05/2023
U&I Logistics - Vietnam has an extensive inland waterway network and great development potential in the transportation sector. This system brings many benefits and advantages to freight operations. So, Inland waterway transport Are you really "running aground? Or is it a strength that is being "forgotten"? Let's find out with U&I Logistics in this article.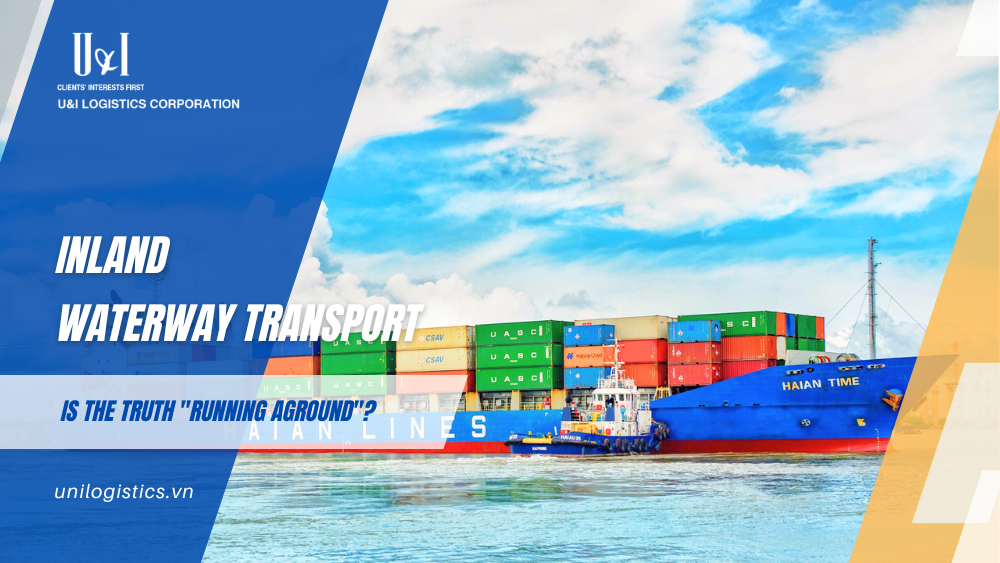 1. What is inland waterway transport?
Inland waterway transport is the movement of goods by river, canal and sea within the same country. This is a method of transporting goods between different regions, using inland river routes. Inland waterway transport will be suitable for small to medium-volume goods, while larger items are usually transported by sea. This mode of transportation ensures efficient movement of goods, reduces road traffic congestion, and contributes to the economic and commercial development of the country.
2. Inland waterway transportation
Inland waterway transport has made important contributions to the socio-economic development and defense of the Fatherland from past to present. It has played a special role in the resistance war and the renewal process of the country, as well as in the process of international economic integration.
The inland waterway network in Vietnam has extensive and developed infrastructure resources. It is considered as a powerful and special form of transportation of the country, and at the same time the "headquarter" in the strategy of the transportation industry.
Up to now, inland waterway transport is the mode of transportation with the highest growth rate in the first 4 months of 2023 compared to the same period in 2022.
According to the General Statistics Office of Vietnam inland waterway freight transport in April 2023 reached 38.26 million VND tons, an increase of 4.3% over the previous month and an increase of 33.6% compared to April 2022. In general, in the first 4 months of 2023, the volume of goods transported by inland waterway is estimated at 153.27 million tons, up 35.1% over the same period in 2022.
Cargo movement by inland waterway in April 2023 reached 7.14 billion tons/km, an increase of 4% over the previous month and an increase of 29% compared to April 2022. In general, in the first four months of 2023, goods movement by inland waterways was estimated at 33.31 billion tons/km, up 26.4% over the same period in 2022.
Read more: The 5 most popular international shipping methods today
3. Advantages and disadvantages of the form of goods transportation by inland waterway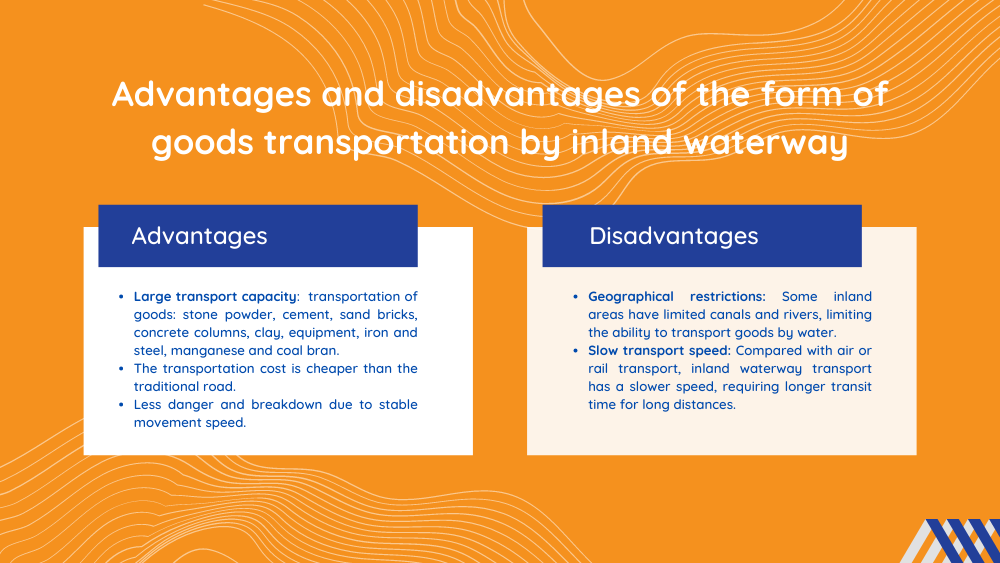 3.1 Advantages of transporting goods by inland waterway
Large transport capacity: Inland waterways have a large network of canals, rivers and lakes, which helps to transport goods in large volumes and meet the demand for large-scale transportation of goods: stone powder, cement, sand bricks, concrete columns, clay, equipment, iron and steel, manganese and coal bran.

Less danger and breakdown due to stable movement speed. In particular, the transportation cost is cheaper than the traditional road.
3.2 Disadvantages of freight by inland waterway
Geographical restrictions: Some inland areas have limited canals and rivers, limiting the ability to transport goods by water.

Slow transport speed: Compared with air or rail transport, inland waterway transport has a slower speed, requiring longer transit time for long distances.
Read more: Learn about seaports and their importance in shipping
Inland waterway transport has played an important role in the movement of goods in large volumes for inland routes and transhipment of import and export goods from ICD, Industrial Park to inland waterways and seaport.
In particular, the freight transport route to Cai Mep - Thi Vai and Cambodia has recorded significant growth. This reflects the efficiency and potential growth of inland waterway transport in connecting endpoints and promoting trade.
Inland waterway transport is not a form of "running aground" as some press mentions. This type of transport has advantages such as large cargo capacity, low cost and environmental protection. However, there are also disadvantages such as limited terrain, slow transportation time.
With over 20 years of experience in the logistics field, U&I Logistics possesses extensive knowledge about the current market and provides logistics solutions that meet the demand of each and every client.
Contact us now!
U&I Logistics