Types of shipping surcharges in international sea freight forwarding services
26/09/2022
U&I Logistics - In addition to the main costs, depending on each country or time, different surcharges will arise when trading goods. To help you determine import and export costs in the most detail, let's learn about Types of shipping surcharges in international sea freight forwarding services with U&I Logistics in the article below!
Content
1. What is the surcharge? Why is there a surcharge?
2. Surcharges in international sea freight forwarding services
3. U&I Logistics - Flexible and precise import and export service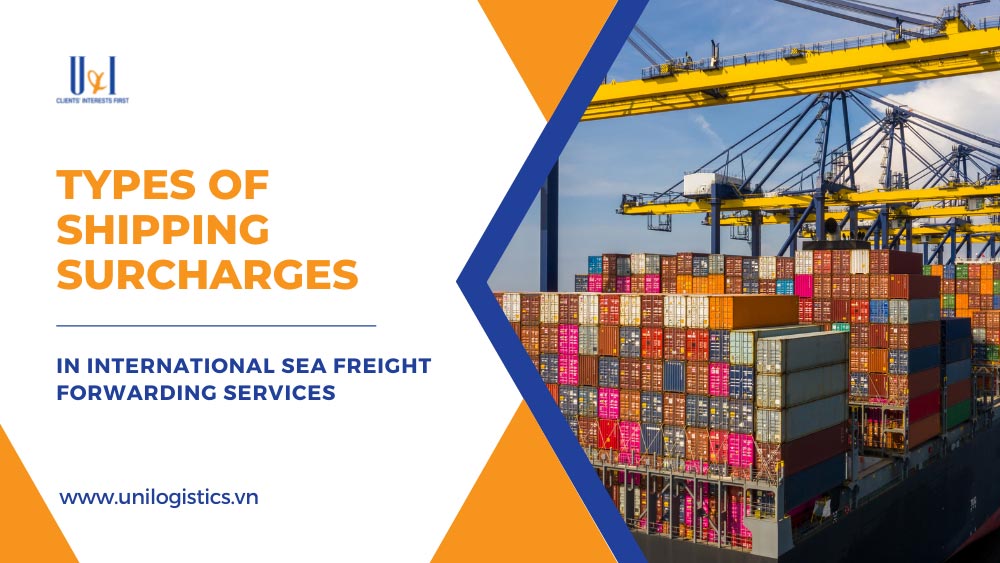 Shipping surcharge (additional charge) is a fee incurred in addition to the main cost that the shipper or forwarder must pay during the transportation process. These surcharges usually come in the form of a service or handling fee.
Surcharges arise from many different factors, but the most common are:
Regulations on mandatory fees when you want to import and export

Regulations of the customs party of the importing country

Fuel prices increase

Port is delayed

Peak season
DOC fee (Documentation fee)
Document fee - also known as Bill of Lading issuance fee. This is the most common fee in international sea freight forwarding. When the shipping line or forwarder issues the B/L (Bill of Lading), the goods owner/business will pay the cost to make these bills of lading and documents.
THC (Terminal Handling Charge)
Loading and unloading surcharge at the port is a fee collected on each container, in order to offset the costs of cargo handling activities at the port such as loading and unloading, gathering, etc.
Handling fee (Handling fee)
Cargo handling surcharge is a fee collected by shipping lines or forwarders to offset the costs of consignment tasks such as transaction fees between ships and agents, fees for D/O procedures, manifest fees, etc. It is necessary to distinguish between Handling fee and THC fee because the names of these two types of surcharges are quite similar, causing many people to confuse.
CFS (Container Freight Station Fee)
Loading and unloading and management of the port warehouse is the cost collected by the customs at the port on the import and export activities of goods from the port and the CFS warehouse for retail items.
Surcharges applicable to each country market
AMS (Automatic Manifest System) fee - Customs data transmission fee for goods to the US, Canada
AFR (Advance Filing Rules) fee - Customs data transmission fee for goods to Japan
AFS (Advance Filing Surcharge) fee - Customs data transfer fee into China
ENS (Entry Summary Declaration) fee - Preliminary declaration of goods imported into the European Union (EU)
ISF (Importer Security Filing) fee - Customs data transmission fee to the US for consignee
Other fees/surcharges
D/O (Delivery Order) fee
Bill of Lading fee
Amendment fee
Courier fee - Document forwarding fee for the original bill of lading
Det (Detention) - Container storage fee at the warehouse is built for shipping lines
Dem (Demurrage) - Container storage fee at the port's yard is charged by the shipping company
CIC (Container Imbalance Charge)
Lift on/Lift off fee
RR (Rate Restoration Container) fee
Cleaning fee
Telex fee
Seal Fee
BAF (Bunker Adjustment Factor)
ISPS (International Ship and Port Facility Security)
PSS (Peak Season Surcharge)
PCS (Port Congestion Surcharge)
LSS (Low Sulfur Surcharge)
CAF (Currency Adjustment Factor) - Foreign exchange rate fluctuation surcharge
Above are Types of surcharges in international sea freight forwarding services that U&I Logistics would like to mention to you. Understanding the surcharges not only helps import and export businesses avoid being charged unknown fees, but also optimizes transportation costs when using outsourced logistics services or hiring carriers.
During many years of endurance activities with the motto "CLIENTS' INTEREST FIRST", U&I Logistics has turned flexibility into a key factor for our success, when all logistics services are highly adaptable, scalable, and variable which meets all the needs of customers.
INTERNATIONAL FREIGHT FORWARDING SERVICES - Flexibility thanks to collaborative trade networks
U&I Logistics provides excellent service routes and connectivity to major gateways, which helps cargo come/go to all countries around the world. Thanks to our Global Freight Network Alliances with WCA (World Cargo Alliance), we assure your on-time shipments and customs clearance procedures at every shipping gateway.
WAREHOUSING & DISTRIBUTION - Flexibility thanks to fully integrated services
In our warehousing and distribution center, fully integrated services ensure that all customer requirements are met. C-TPAT is the key strength that helps U&I Logistics provide you with standard services under a strict and scientific management process from the US.
CUSTOMS BROKERAGE AGENCY - Flexibility thanks to a professional team
With our self-operated agency with a team of top personnel, your customs declarations work of varied sizes for a variety of industry verticals becomes light, fast, accurate, and economical.
INLAND TRANSPORTATION - Flexibility thanks to the application of modern technology
For any transportation requirement, individual or integrated, our team is experienced transport professionals who know how to best fit solutions to make it work for you and handle them quickly and accurately using a transportation management system (TMS).
>>>You may be interested: 4 core services at U&I Logistics
With the trust of customers, U&I Logistics is committed to making more efforts to bring success to all partners in import and export activities.
U&I Logistics